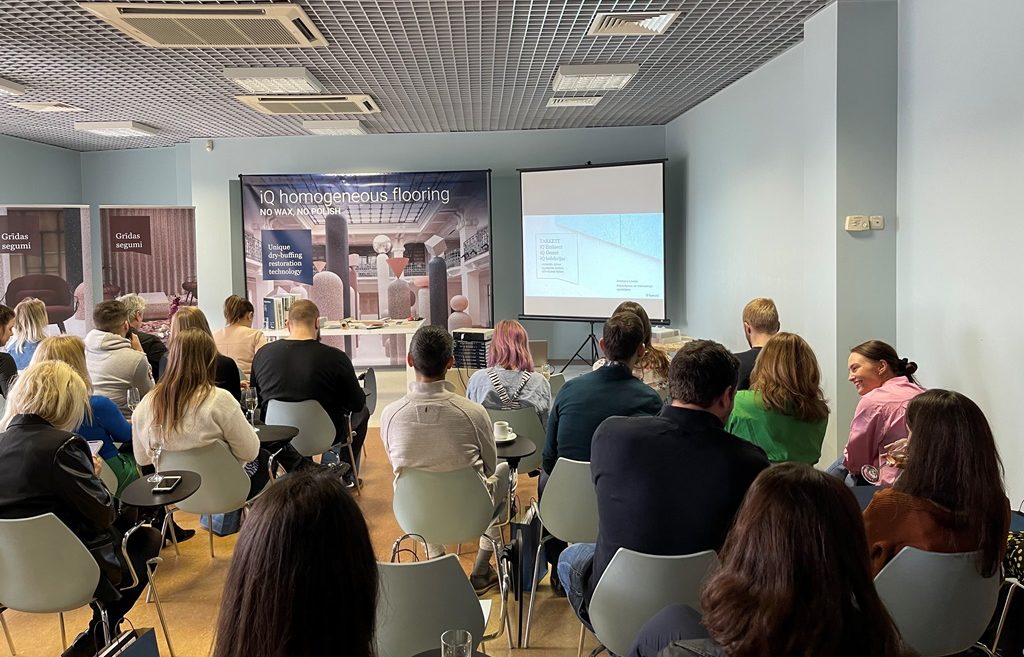 Reaton seminar for designers and architects – new homogenous vinyl "iQ Eminent" and "iQ Granit" collections
Reaton, in cooperation with one of the leading flooring manufacturers "Tarkett", presented the new "iQ Eminent" and "iQ Granit" collections at the mc2 interior and gourmet centre. The invited guests had an opportunity to watch an in-depth presentation on the new collections and participate in laboratory experiments, which enabled them to have a closed look at the new products, as well as to find out opinions of experts about the new product and receive information about the "Tarkett ReStart" programme, offered by "Tarkett".
During the presentation, Ms Svetlana Lesiņa, "Tarkett" Sales and Marketing Specialist, introduced the audience to the "iQ Eminent" and "iQ Granit" collections, created based on the 50 years+ experience of "Tarkett", and which will keep making history around us in the following years – in hospitals, schools, workplaces, hotels, airports and elsewhere.
'The homogenous vinyl is an iconic, durable and popular material chosen by architects and designers who want a product performance beyond expectations. Two collections, four articles and a brand new colour story with a recipe that works for all spaces while creating new harmonies – with a particular focus on design for the environment, which is also used for people with dementia. Fully restored, fresh, tender and modern, 76 colors and patterns created to combine them to their own tastes that suit the needs of different zones while thinking about the wellbeing of users, but without losing their history and identity as unique, separate collections," Ms Lesina says of the new collections.
The IQ compound is made from the very best materials, which are strong and durable and can withstand the heaviest conditions. Optimal hygiene and infection control – the best protection in your class against medical stains and chemicals. The product can be placed in the most demanding environments, e.g. ISO 4 clean rooms (ISO 14644-1). It provides ideal installation and restoration with dry polishing and restoration system maintenance. The product provides excellent suture strength, preventing joint openings from forming. Folds and perfectly sealed joints prevent dirt or dust from accumulating in them, while providing watertight finishes and enhanced suture strength. The excellent material flexibility provides ideal rounds and hot welding to create a waterproof connection between the floor and wall.
In increasingly complex environments, the technical collections of "IQ Eminent" and "IQ Granit" meet all these needs, technical and aesthetic. Reliable throughout the life of the product. Unique combination technical options are available, such as acoustic solutions, conductive materials, power diffusion and anti-slip options.
It should be stressed that in response to the climate emergency and that tackling carbon emissions and climate impacts is no longer an option but a necessity, Tarkett has committed itself to creating a circular economy ("circular economy"), to use only good materials and exceed the highest indoor air quality standards. That's why the Tarkett Restart global program has emerged, offering the ability to return your old and/or unused flooring so you can make new flooring out of it. In order to do so, representatives of Tarkett Latvija should be informed about the planning of repairs and the desire to dispose of old carpet tiles and/or vinyl laying waste; the company's specialists will arrive at the site to assess material compliance with the Restart program; if the material meets the conditions of the Tarkett Restart program, the company will have to collect the rug tiles to be disposed of and place on pallets but vinyl trimmings in special bags. A special bag will be issued for post-installation waste; representatives of Tarkett Latvija should be informed of their readiness to hand over pallets and/or bags, while the company will arrange an exportation to the Tarkett refinery to give a second life to flooring.
According to Zane Bernane, project coordinator for Lauder Architects, she regards the previous cooperation with Tarkett very positively, both in the supply of materials and samples. "Working with customers – mostly it's been office space – we offer them exactly Tarkett flooring and customers have always been happy with our offer." She also added that she has not yet worked with the new production of Tarkett, but if any project needs it, she will definitely offer it and continue co-operation with the company. "In any case, if people are looking for material for a floor patch, I would definitely recommend exactly "Tarkett," according to Ms Bernane.
Samples of Tarkett's latest collections can be viewed at the Reaton's finishing materials exhibition. Address: Ciekurkalna 2. linija 74, Riga.
If you want floor coverings for your project, please contact Reaton Project Department by calling: +371 26456183, e-mail: dmitrijs.bugajevs@reaton.lv.
Reaton will continue to offer its clients – designers and architects the opportunity to attend seminars on various topics, therefore, we invite you to follow the latest information on the website:  reaton.lv or on the social network: facebook.com/Reaton.lv.
Contacts
Reaton Store of Finishing Materials: Ciekurkalna 2.linija 74, Riga, LV-1006
Show route
+371 25777771
apdare@reaton.lv
Reaton finishing material shop working hours:
Mon-Fri: 9:00-18:00
Sat: 10:00-16:00
Sun: closed.