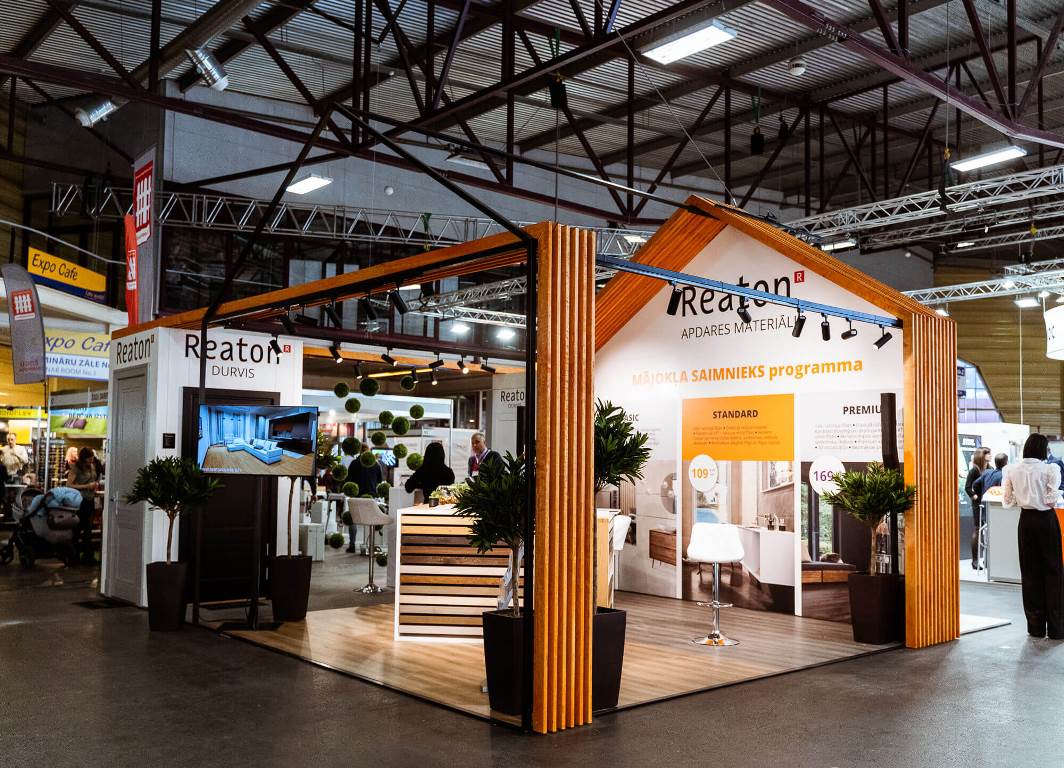 Reaton will take place in the exhibition Māja I 2020
Dear cooperation partners and colleagues!
We are inviting you to the Reaton stand at the exhibition Māja I 2020 that will take place next week from 12 to 14 June at the Ķīpsala exhibition centre. The exhibition will take place by observing the Cabinet of Ministers Regulations and safety requirements. All previously unused invitations are active and valid.
At the exhibition we will present the Reaton Finishing Solutions Programme "Homeowner" with a renewed assortment and the latest design trends in finishing materials.
During the exhibition you will be able to get acquainted with Reaton fireproof doors and the most popular design doors.
You will have the opportunity to see and feel the new product – parquet manufactured by COSWICK – at the "Reaton" stand.
Several finishing materials for ventilated facades will be displayed at the Reaton stand:
Large-size tiles with individual details TELE di MARMO REVOLUTION from the manufacturer EMIL Ceramica – they make each project unique and original as a work of art.
Third generation large-size veneered facade panels PRODeX from the manufacturer PRODEMA – a unique material that combines the advantages of natural wood and innovative approach to exterior finishing.
Extruded basalt fibre large-size panels CHAMELEON from the manufacturer ROCKPANEL – certified as one of the best finishing materials with A+/A rating.
Aluminium linear panels 84R FACADE from the manufacturer HUNTER DOUGLAS – open structure facade system that creates a visually expressive, clean, dynamic finish of the building facade and allows light and air to travel through the system, while maintaining excellent acoustic performance.
At the Reaton stand you will have the opportunity to see the following flooring samples:
carpet tiles Tarkett Desso,
new generation LVT (luxury vinyl tiles) from the manufacturer TARKETT,
novelty – 20 mm tiles for terraces and outdoor finishing PIAZZETTA OUTDOOR from the manufacturer LASSELSBERGER – the longevity and natural beauty of the stone, an authentic copy of industrial concrete.
More information:
Contacts
Reaton Store of Finishing Materials: Ciekurkalna 2.linija 74, Riga, LV-1006
Show route
+371 25777771
apdare@reaton.lv
Reaton finishing material shop working hours:
Mon-Fri: 9:00-18:00
Sat: 10:00-16:00
Sun: closed.
Finishing materials can be purchased REMOTELY by contacting a customer consultant, on weekdays from 09:00 to 18:00, on Saturdays from 10:00 to 16:00.
We provide remote consultations and place orders by phone: + 371 25777771 or e-mail: apdare@reaton.lv, on working days from 09:00-17: 00.
mc2 Centre of Interior and Specialties: 68a Krasta Street, Riga, LV-1019
Show route
+371 29723232 (Galleria); +371 20405577 (Decorum)
apdare@reaton.lv
mc2 interior and finishing materials departments working hours:
Mon-Sat: 10:30-19:00
Sun: closed.
Items for home, interior and finishing materials can be purchased REMOTELY by contacting a customer consultant during business hours from 10:30 to 19:00. The product can be received at mc2 WAREHOUSE, 68a Krasta Street, Riga.