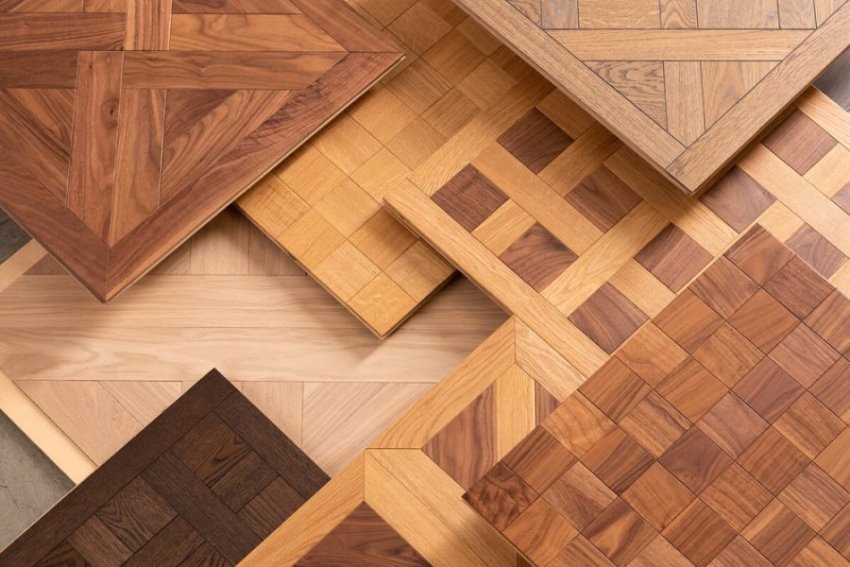 Reaton seminar for designers on floor coverings
LLC "Reaton", in association with the Belarussian company "Coswick" LTD, organised an international online seminar ""There are 360 degrees, so why stick to 1?" @ZahA HAdid. Limitless possibilities with Coswick Hardwood Flooring", to which designers from Latvia and Asian countries were invited
Name of the seminar "There are 360 degrees, so why stick to 1?" reflects the wish of modern people to retain their usual standard choices and not to attempt to find other solutions. However, designers are the people, who are able to help customers to change this habit. Reaton is in favour of the development, expansion of assortment and the provision of up-to-date products for their customers. When organising the online seminar, the main goal was to introduce designers to the newest international trends in the area of floor coverings, products of the cooperation partners and designer tools to apply when implementing projects of various kinds.
Four topics were discussed during the online seminar:
"It is not beauty that stands the test of time" – about the company "Coswick" LTD,
Most significant projects,
Unlimited possibilities together with "Coswick Hardwood Flooring",
Designer tools
Reaton recommends to choose the products delivered by the cooperation partners, since the company's operational values, such as integrated manufacturing process, use of innovative technologies, timely supply of products and adjustment to the customers' needs ensure high-quality flooring solutions in the designing of living and public spaces.
The Reaton points of sale at Čiekurkalna 2. līnija 74 and 68a Krasta Street provide a possibility to have a look at, purchase and order classical or different and original floor coverings – solid wood, chevron (French conifers), conifers, modulus and three-layer Click connection parquet.
At the moment, a wide range of products is offered on the market by the majority of companies. One of the unique selling points of Coswick LTD is ecosystem solutions in the manufacturing process.  All the products are made of natural wood. Materials used in the manufacturing process are selected on the basis of strict requirements of ecological safety. Timber products are acquired by using clear cutting procedures and environment-friendly practices, which do not result in the reduction of areas of oak and ash-tree forests.
Demand for floor coverings of wood design of various kinds has significantly changed over the recent years. While customers previously chose "Clean" floor coverings or coverings of clear design and without branch spots, now floor coverings of "Rustic" and "Mixed" wood are topical.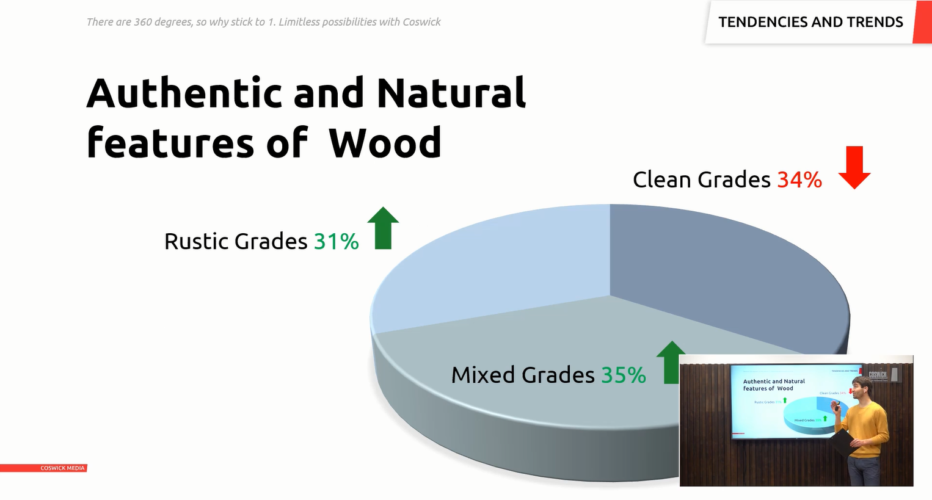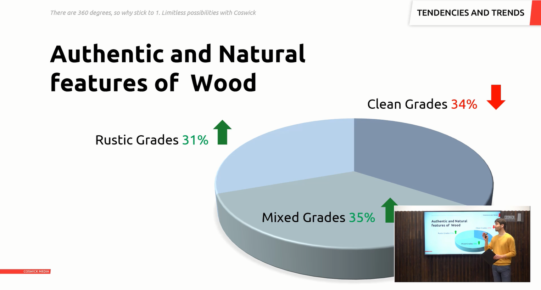 Figure 1. International trends in the design of floor covering wood.
Floors made of "Rustic" wood are the least sorted and closest to the natural design with explicit branch spots. They feature a natural wood texture and wide visual differences in shades. Floor coverings made of "Mixed" wood are characterised by designs of various types of colours and wood in the floor covering.
The trend of recent years is to choose light floor coverings, whereas demand for floors of dark colours and with dark decors decreases. Such changes in trend are affected by the wish of the customers for light, natural decors and colours in the projects. Furthermore, light floor coverings are more universal and easier to integrate in various styles of interior.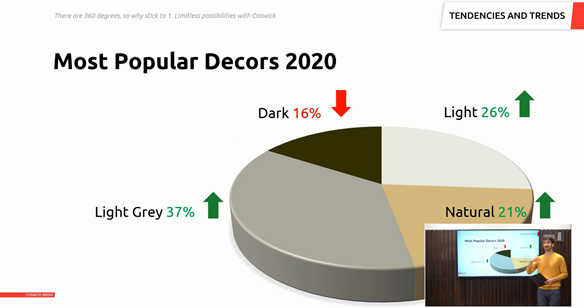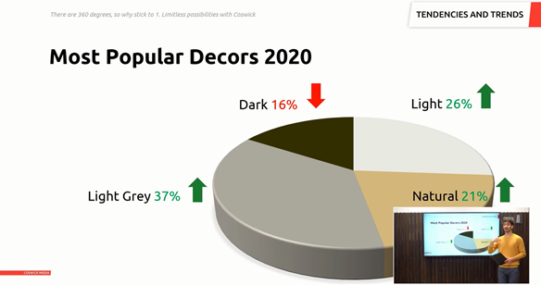 Figure 2. International trends of decors of floor coverings.
Following the changes in trends, at the LLC (SIA) Reaton points of sale it is possible to choose and order the most topical parquet design solutions from the newest Coswick assortment, with the number of shades exceeding 80. Module parquet combines the traditional and artistic aesthetics of parquet, which provides flawless geometry, high-quality decoration and structural reliability.
While earlier on mosaic floor coverings were explicitly more frequently used in projects involving smaller areas, such as apartments and private houses, this trend has changed over recent years. Thanks to the diversity of shades and ornaments and the functional spectrum of use thereof, we can come to the conclusion that mosaic is preferred when constructing projects regarding public buildings and commercial spaces. Furthermore, mosaic floor coverings are more frequently used above the floor heating system.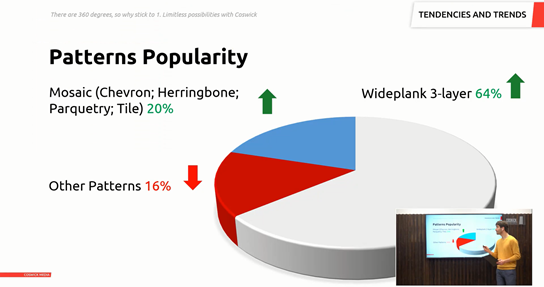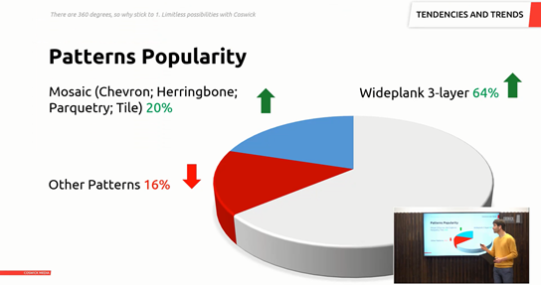 Figure 3. International trends of decors of floor coverings.
Ten years ago, more than 50% of the customers chose floor coverings made of narrow boards, but today this trend has changed, and customers mainly choose floor coverings made of wide boards.
Products of the Reaton partner are highly valued on the market, and this is proven by the number of projects implemented in cooperation with world-famous designers and architecture companies, such as "Yabu Pushelberg", "The Gettys Group", "INC Architecture & Design".
"Hoffmann La Roche Headquarters", Basel, Switzerland. Construction project of a healthcare company building, in cooperation with the company ROSER AG. Product – Customised Oak 3-layer (oak 3-layer parquet) T&G 82.55 mm, wide. Volume: 1,300 m2.
"Sommerro Hotel", Olso, Norway. Hotel construction project, in cooperation with the company ParkettPartner JSC (AS) and the design company Grecodeco Inc. Product: 3-layer plank hardwood flooring CosLoc 5G with oak pattern and shade. Volume: 5,750 m2.
"Marriott Hotel", Illinois, Chicago, USA. Cooperation with Eco Smart and design company The Gettys. Product: Oak 3-layer T&G (19.05x190x600…2,100 mm). Volume: 1,300 m2. Especially for this project, a special shade of parquet was developed, and according to the commercial area of the hotel, the floor covering was supposed to have high wear resistance, stability and resistance against the impact of chemical substances.
"The Ritz-Carlton Hotel", Manhattan, New York, USA. Cooperation with the company "Doma Source" and design company "Yabu Pushelberg". Product: Oak 3-layer (OBO) T&G (19.05x127x600…2,100 mm). Volume: 10,000 m2. The most complicated nuance of this project was to manufacture floor covering which would be able to resist a high condition system and low moisture level.
While everybody has unlimited freedom of choice on the floor covering market, the LLC (SIA) "Reaton" provides individual consultations for its customers with the specialists of the relevant area and their recommendations to make the choice of floor covering a pleasant and easy process. It is important for us that everybody can find the most suitable solution of the highest quality, therefore we cooperate with the best manufacturers of floor coverings. Various solutions are available in Reaton shops of decoration materials:
High-quality manufacturing process floor coverings with quality structure, which provides advantages such as continuous stability and resistance to the impact of various environmental factors.
Wide range of solutions – it is topical in the choice of floor coverings that the customers want combinations of wood of various kinds of the same colour, thickness and finish. We can offer topical floor coverings from Coswick and other manufacturers, as well as individual orders.
Compatibility of products, flexibility and special solutions – quality, diverse assortment and a wide choice of colours and designs, as well as custom-made floor covering. It may be possible, because Coswick provides a possibility to create floor coverings, adjust shades of colours and design to your needs, as well as special projects.
In order to facilitate work with customers of various projects, Reaton recommends the designers to take a look at the "designer tools" developed by Coswick, which may serve as an excellent assistant in the work process and significantly save your time. Coswick website, section "DESIGNERS AND ARCHITECTS" offers broad information, which will not only enable one to get inspired, but also:
to create and combine shades and textures of various floor coverings,
to obtain information on how to combine wooden floor coverings of various kinds,
to create and order individual, exclusive floor coverings.
Reaton interior and decoration website, section USEFUL will offer you a visually impressive and informatively valuable material with useful hints regarding the correct choice of floor coverings, types, main conditions for decking and care.
LLC Reaton assortment and offer of floor covering is available on the website: interior.reaton.lv/ or by calling (+371) 25777771 and by writing to: apdare@reaton.lv.
LLC Reaton will also offer its customers and designers the opportunity to attend online seminars of various topics in the future, therefore, please follow our updates on the website: reaton.lv or on the social network: facebook.com/Reaton.lv.
Contacts
Reaton Store of Finishing Materials: Ciekurkalna 2.linija 74, Riga, LV-1006
Show route
+371 25777771
apdare@reaton.lv
Reaton finishing material shop working hours:
Mon-Fri: 9:00-18:00
Sat: 10:00-16:00
Sun: closed.