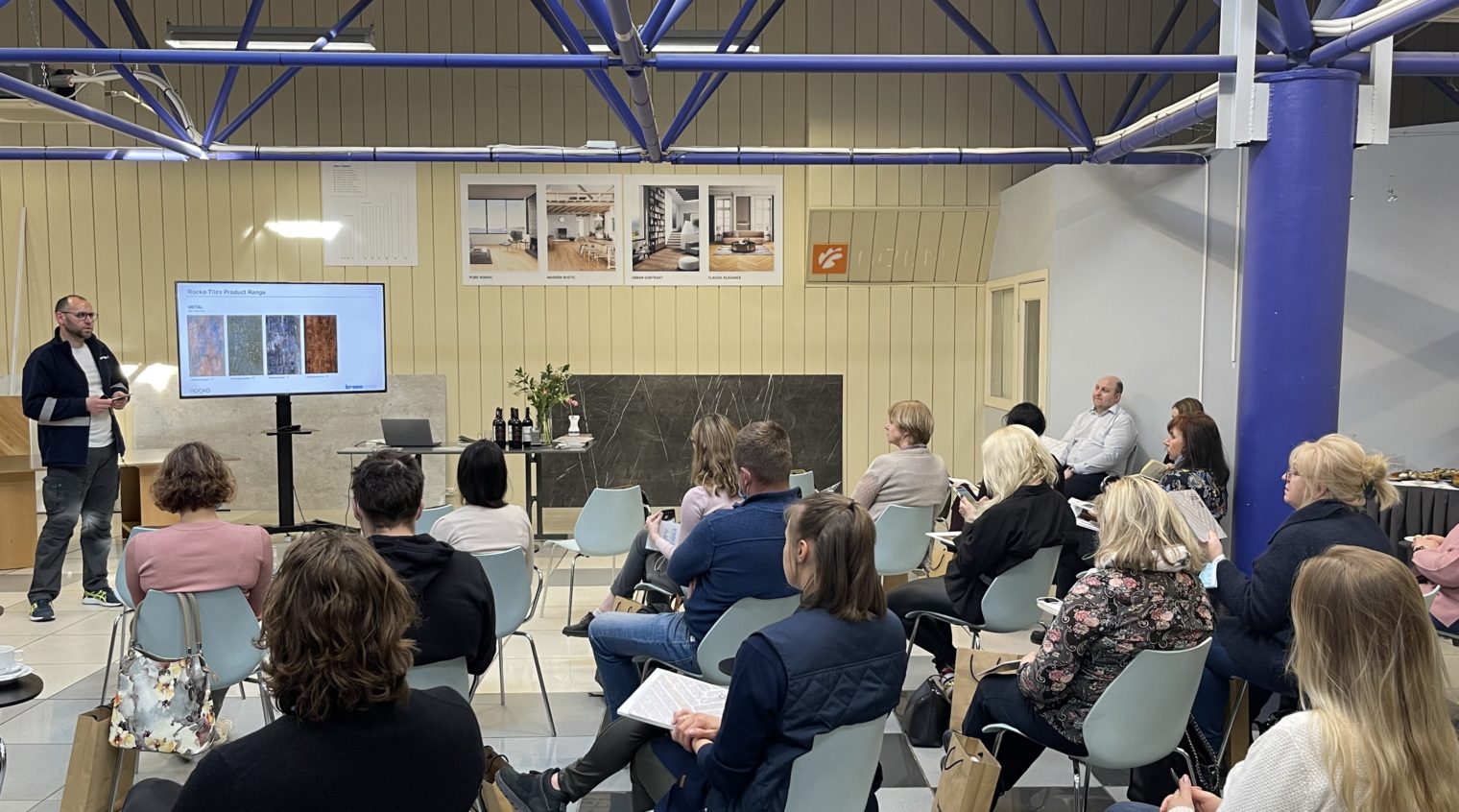 Reaton seminar for designers and architects – SPC composite material wall panels ROCKO
Reaton, in cooperation with one of the leading global laminate floor and wall panel manufacturers Kronospan, organised an onsite seminar "ROCKO – presentation of new generation wall panels".
Invited guests, regular customers of Reaton – designers and architects – had a unique opportunity to listen to the presentation of Kronospan sales representative, who had arrived in Latvia from Poland.
During the first part of the presentation, guests were introduced to the advantages of Rocko wall panels, options of application, as well as could have a look at samples on the spot. Rocko wall panels are a novelty and innovation in the broad range of Kronospan products. New generation wall panels are decorative, water resistant and unbelievably light wall tiles. Advantage of the panels is the unusually large size – 2800×1230 mm, but, at the same time, each tile only weighs 28 kg and is very thin. It was also demonstrated by the representative of Kronospan, by lifting and moving sample panels across the hall and by drilling a hole, thus showing how easy it is to do without damaging the material.
The Rocko collection stands out with its excellent and well-considered designs, created through inspiration from stone, marble, and the criss-cross pattern. So far, these wall panels have been installed within several house and public space projects. Videos of the projects inspired the guests present by showing how simply and aesthetically, for example, cables, wires and other items can be hidden in the interior.
The second part of the seminar programme included a demonstration of installation of the wall panels. Guests could participate and watch how comparatively quickly and simply the wall panels were installed. We also provide you with the opportunity to watch the installation process displayed in the video.
When ordering the wall panels Rocko at the Reaton shop of decoration materials, you can purchase all the necessary installation and care materials at the same place – solvent-free assembly glue Rocko Adhesive, as well as the cleaner Rocko Tiles.
If you want to use composite material wall panels or floorings in your projects, we recommend using the Kronospan application "Kronodesign", which will help you find suitable decors, visualise your ideas and create the design composition.
Samples of Kronospan newest collections and SPC composite material wall panels are available in the Reaton exposition of decoration materials, at Čiekurkalna 2. līnija 74, Riga, or you can also receive an offer by calling:+371 25777771, or sending an e-mail: apdare@reaton.lv.
Reaton will keep offering its customers — designers and architects — the opportunity to attend seminars of various topics in the future as well, therefore, please follow our updates on the website: reaton.lv or on the social network: facebook.com/Reaton.lv.
Contacts
Reaton Store of Finishing Materials: Ciekurkalna 2.linija 74, Riga, LV-1006
Show route
+371 25777771
apdare@reaton.lv
Reaton finishing material shop working hours:
Mon-Fri: 9:00-18:00
Sat: 10:00-16:00
Sun: closed.