Doors
"If one door closes, another door opens."
Reaton is one of the leading private companies in Latvia, operating for the longest, that is engaged in the production of high-quality wooden doors. Reaton began its operation in 1991, and has since developed the door production industry, using centuries-old traditions, top-quality materials and the latest production machinery, becoming one of the leaders on the local market.
During its activity, Reaton has gained much experience in the production and installing of doors, and has many successful projects to showcase it.
Currently, we offer more than 200 door models for residential and public buildings, including interior doors, entrance doors, soundproof doors, fire-resistant doors, sliding partitions, as well as glass doors and reinforced security doors.
The offered range of doors can be provided with a natural veneer finish, paint finish or plastic (HPL) finish. For interior doors, we offer decorative glazing of different colours and textures – matte, tinted, embossed, bevelled, or stained glass. We equip the doors using high-quality fittings from a wide range of leading European manufacturers.
We work hard to make sure that our customers feel comfortable, that choosing, buying and using our doors is convenient and pleasant for them. We provide a set of services for the measuring, installing and technical inspection of the doors. The doors we produce have a 24-month warranty, and we provide warranty and post-warranty service.
The door exposition can be viewed at:
Reaton, store of finishing materials, Čiekurkalna 2. līnija 74, Riga, LV-1026.
mc2, Centre of Interior and Specialties, 68a Krasta Street, Riga, LV-1003.
Door production plant:
SIA "Reaton" Door Production Department, 20 Krustabaznīcas Street, Riga, LV-1006. E-mail: durvis@reaton.lv
Home page: www.doors.reaton.lv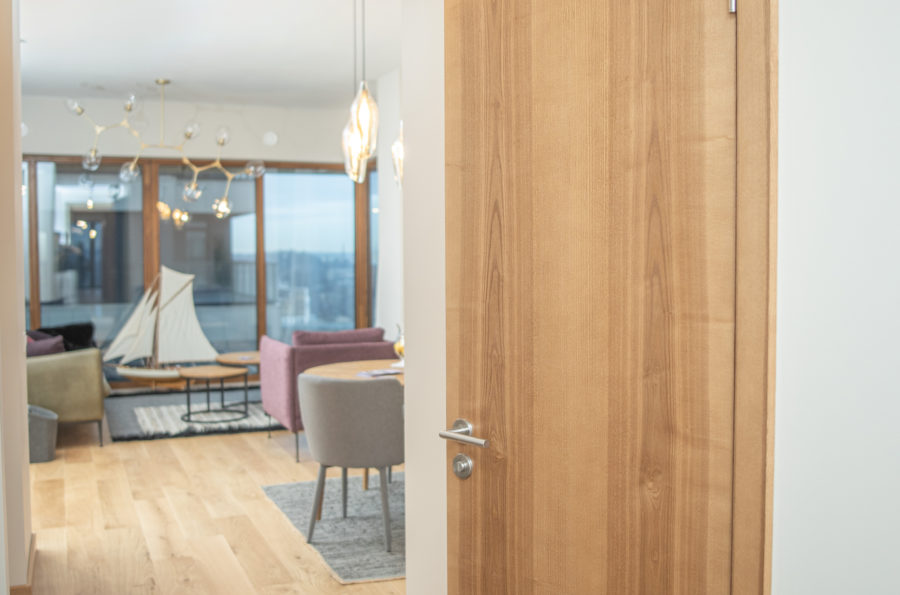 Interior doors
Reaton's range includes both classic and modern-style interior doors made to order, based both on the design of our standard door models, and adapting them to your vision.
New product available – doors with hidden box.
Collection of design doors
The company joined forces with Latvia's leading architects to create "Normandijas sāga" – a unique designer collection of doors.
It is a collection of design doors where the creativity and imagination of architects has been made a reality by the Reaton door production plant.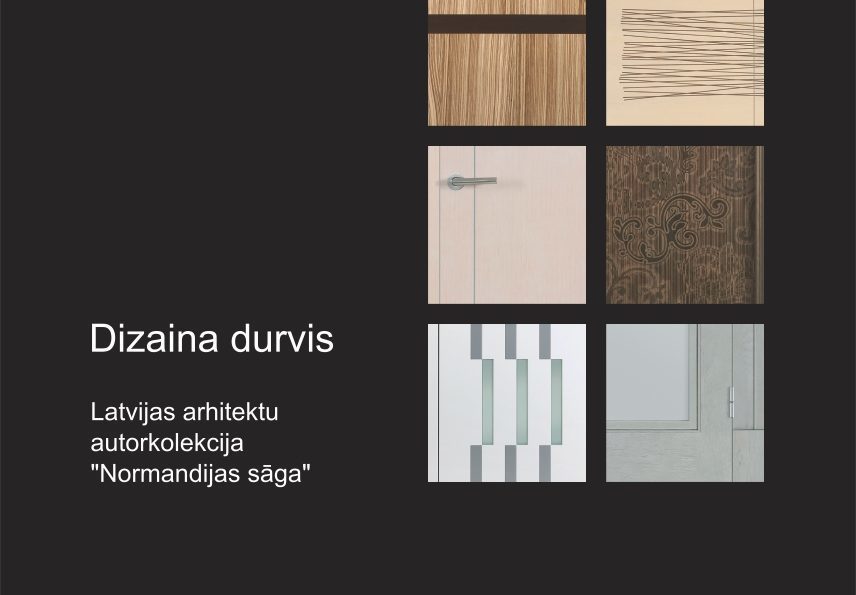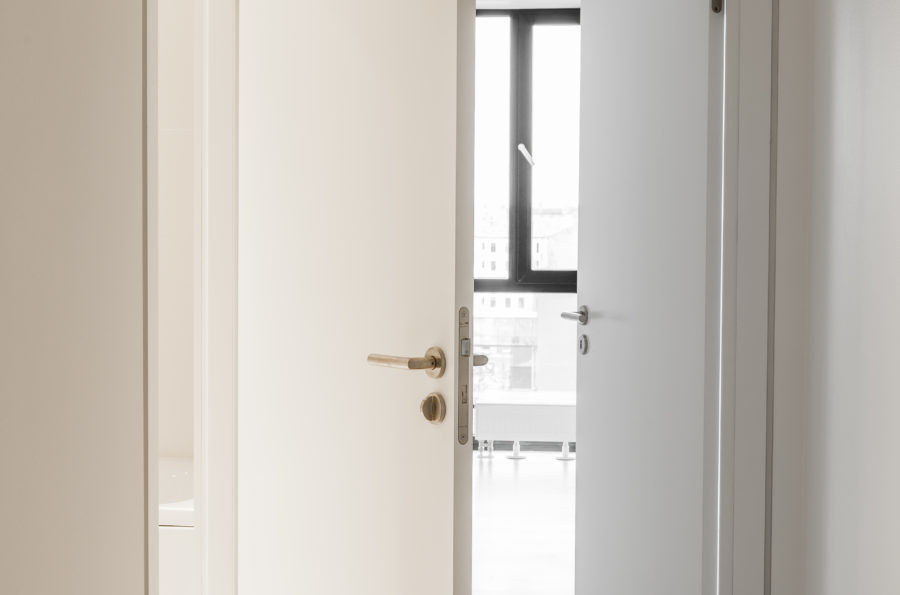 Special purpose doors
Reaton produces a broad selection of special purpose doors – wooden fire-resistant, soundproof doors in various structural and visual options, with a wide range of dimensions available. We also produce wooden doors in metal frames. Fire resistance class EI-30/EI-45 with soundproofing of up to 44 dB.
New product available – frame construction fireproof doors with wooden slats.
Non-standard door solutions
Door manufacturer Reaton offers to both design and to manufacture non-standard door constructions in order to implement not only the design requirements, but also the regulatory requirements at your object, for example:
in historic buildings – by maintaining the classic design of the doors, to meet the requirements of soundproofing and fire safety regulations;
in modern office complexes – to integrate wooden soundproof and fireproof doors in glass partitioning walls.
Contact information regarding doors:
SIA "Reaton" Door Production Department
20 Krustabaznīcas Street, Riga, LV-1006. E-mail: durvis@reaton.lv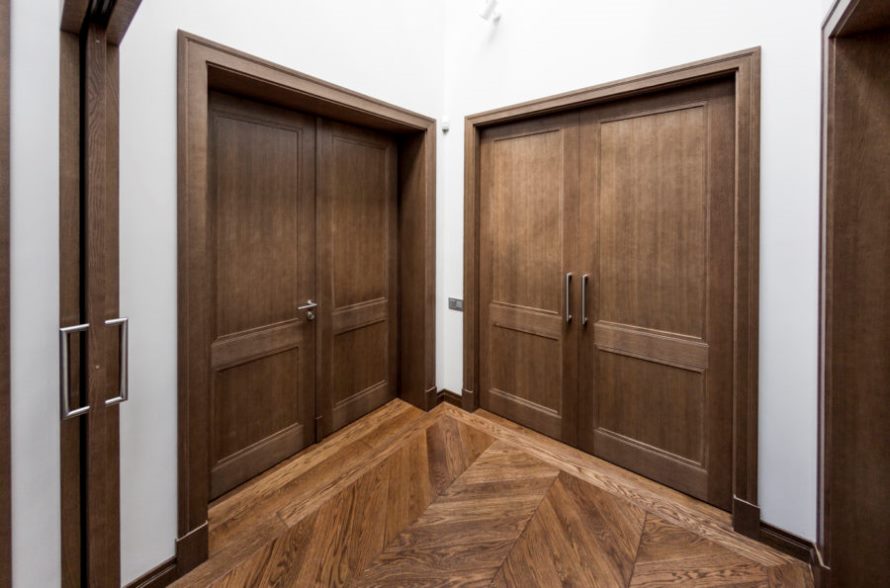 Consultation
Do you require the assistance of a designer or a technical solution for the project? Ask our specialists. Start with an individual consultation, during which our specialists will find out your wishes and needs in order to offer the most suitable solution for you.
For individuals
For companies
Contacts
Reaton Store of Finishing Materials: Ciekurkalna 2.linija 74, Riga, LV-1006
Show route
+371 25777771
apdare@reaton.lv
Reaton finishing material shop working hours:
Mon-Fri: 9:00-18:00
Sat: 10:00-16:00
Sun: closed.