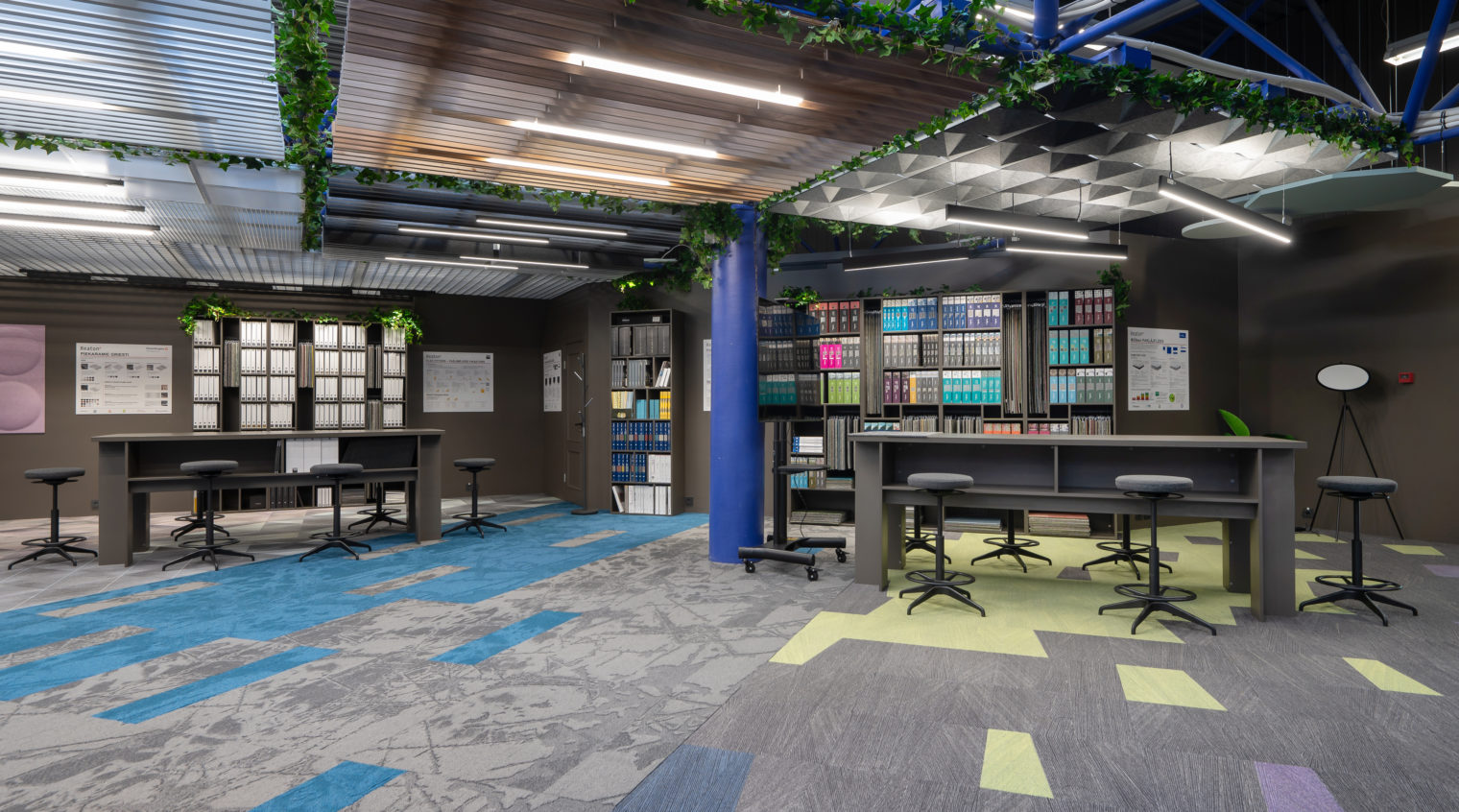 Reaton opens the largest exhibition of finishing materials in Latvia
In celebration of its 35th anniversary, Reaton has opened a specialised exhibition of finishing materials and design solutions for offices, commercial spaces and ventilated façades. This is the only exposition in Latvia with such a great variety of finishing materials. The exhibition also includes a number of work areas where you can discover the current collections together with Reaton specialists and find solutions for your projects in a free and creative environment.
The specialised exhibition is located in the Reaton Architecture and Construction Centre in Čiekurkalns. It is created as an architecture and design tool as well as a work platform all in one. At the exhibition, you can learn about the latest trends in ventilated façades, office design, finishing material collections and other innovative, state-of-the-art solutions for commercial premises with the mandatory BREEM, LEED, FSC and other certificates.
"We are seeing the trend of a rapidly developing office space segment in Latvia, where the most pressing challenge in recent years has been comfort and functionality. To celebrate the company's 35th anniversary, we wanted to create a space with several groups of specialised products where everyone, looking to implement their idea, could observe, try and combine products in a professional environment, saving time and energy. The purpose of the exhibition is to create a space where visitors can get ideas and find suitable, innovative materials for their projects," emphasises Dmitrijs Bugajevs, Director of the Project Department at Reaton.
he exhibition offers various finishing material solutions from world leading manufacturers:
carpet tiles – available both as conventional, classic design solutions, as well as increased impact noise reduction solutions with unique designs that make rooms comfortable;
suspended ceiling – acoustic, modular type and design solutions suitable for the geometrical requirements of different rooms;
acoustic solutions – acoustic solutions for walls of various designs, which will help to create a quiet, peaceful and balanced working and living environment;
acoustic sliding partition walls – solutions that help to divide larger rooms into several smaller areas;
ventilated facades – considering the importance of energy efficiency, ventilated façades are one of the most effective solutions to keep heat in the building. What stands out most among the offered products are innovative products such as self-cleaning façade solutions from Japan created with a unique technology: the effect of UV rays makes them develop a protective layer, and dirt washes off by itself during rain.
Specific technical information will help to learn more about product types and options, and Reaton's expert consultants will help with more specific issues, as well as components and drawings. As a result, every visitor will get valuable information – new specialists will get additional information about the latest trends, professionals will improve their current knowledge, and people dealing with interior design and repair for the first time will easily find answers to their questions. A special added value for this exhibition is the opportunity to get a realistic impression of the use of desired materials, as they are blended in an already integrated interior.
The exhibition is intended for architects, designers, representatives of construction and real estate development companies, as well as for anyone who wants to find and implement sustainable design and create a functional environment. Regular seminars and training sessions with the world's leading manufacturers and industry specialists will be held at the exhibition, providing expertise and inspiration. The exposition is located in Riga, Čiekurkalna 2. līnija 74, working hours are from 09.00 to 18.00 on weekdays and from 10.00 to 16.00 on Saturdays.
Contact details:
+ 371 25 777 771
biroji@reaton.lv
Contacts
Reaton Store of Finishing Materials: Ciekurkalna 2.linija 74, Riga, LV-1006
Show route
+371 25777771
apdare@reaton.lv
Reaton finishing material shop working hours:
Mon-Fri: 9:00-18:00
Sat: 10:00-16:00
Sun: closed.